Dear Student and Parent:
Thank you for participating in the Secure Student Storage & Moving program. We are locally owned and operated and have been serving students at the university since 1993. This letter is to provide information and to confirm that we have received your information on the student April or May storage pickup. It is IMPERATIVE that we pick up your student's items the DAY BEFORE their FLIGHT or they risk missing their plane. Please remember your student is not the only student leaving the university.
There are about 5,000 students leaving the same day.
It is IMPERATIVE that we pick up your student's items the DAY BEFORE their FLIGHT.
We have students that are not ready on time, so they have to go back to pick up.
We receive last-minute requests.
The law of nature: If it could happen, it will. (If it were not for the last minute, the world would end tomorrow.)
If the student leaves their stuff in their room and leave for the airport, WE NEED TO KNOW right away. (we ask that you please don't do that.)
Your request date will be honored. Please keep in mind there are 5,000 students leaving the same day your student is leaving the university.
The request pickup times are a REQUEST.
When your student is ready & completely packed, give us a call. We will tell you where the truck is located on campus and how long it will take to get to you. (This will prevent you from waiting around all day.)
We will be driving a yellow Pensky 16 foot truck.
Morning pickups are between 10 am - 2 pm.
Afternoon pickups are between 3 pm - 6 pm.
Note: we will stay on campus until the job is done and all pickups have been made for that day.
Please put the last four digits of your social on four sides of the box about 3 inches. We would also like your name on the box too.
If you return to school early (June, July) for summer school, please mark "EARLY OUT" on your box.
We will have extra boxes and supplies on the truck if the student needs more supplies. Approximately July 15th, we will send a letter asking the student where they will be living in the fall to deliver their items to them.
Thank You for your business.
Schedule Your Pick-Up or Delivery!
Please allow 72 hr expected delivery time on all orders processed.
Scheduled Deliveries Will Be Made On August 10th - 30th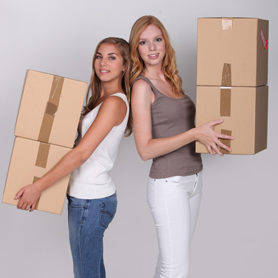 Schedule Your
Pickup Or Delivery
Print Storage Label
Secure Student Storage
& Moving
Students will be searching for either a place to store their belongings over the summer, or someone to ship them home. We are pleased to offer both of these services to students. In addition we also sell boxes for your stuff! These boxes will be delivered to your dorm's quad by appointment.
Feel Free To Call Us!
(504) 866-6810
OR
(504) 866-6400
Email:
Address:
PO Box 850471
New Orleans, LA 70185